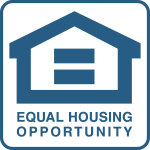 Now under construction in the heart of Hamilton Township, Mercer County, these seventy-two apartments will feature one, two, and three-bedroom units adjacent to a large Community Center.
Located in the designated "Center City" area of Hamilton, the new campus will be in walking distance of two shopping centers, banks, convenience stores, and a grocery store. The Hamilton Library and Police Headquarters are across the street with a Capital Health System medical complex, the Hamilton YMCA Main Branch, and another office complex of medical offices down the block.
The buildings will be a three-story design, with private entrances in front and all are either barrier-free or adaptable to be accessible for people using wheelchairs. The buildings will have elevators and central heat/air conditioning that incorporate Energy Star-designed features as well as being LEEDs compliant. Each floor will have a laundry room.
A preference will be given to households that live or work in Housing Region #4 as designated by the State of New Jersey consisting of Mercer, Monmouth, and Ocean Counties.
While Project Freedom accepts Section 8, people cannot apply for Section 8 Housing Choice Vouchers through Project Freedom.
---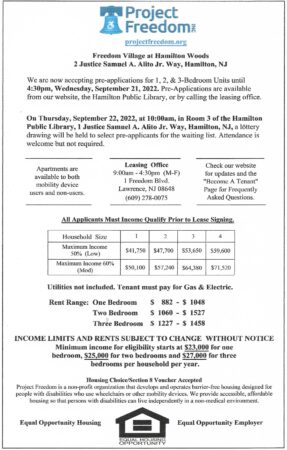 For more information, contact Brianne Devlin at 609-278-0075, x 2113
---
Thank you for your interest in living at Freedom Village at Hamilton Woods! In order to ensure fairness, Project Freedom will select interested applicants for the waiting list using a lottery system. The lottery drawing will randomly select households to submit further information for income eligibility review and program eligibility review. Please note that all households must meet income qualifications to live at Freedom Village at Hamilton Woods.
The lottery drawing will be held on Thursday, September 22, 2022, at 10 AM in Room 3 of the Hamilton Township Public Library. Attendance by interested applicants is welcome but not required. Once the lottery process is completed, all eligible parties will be notified of their position on the waiting list by October 14, 2022, with more information on the next steps including what types of income documentation will be required.
In order to be eligible for the lottery, you must complete the attached pre-application for this project. Please complete and submit the pre-application and accompanying information before 4:30 PM on September 21, 2022, to: Freedom Village at Hamilton Woods, 1 Freedom Blvd, Lawrenceville, NJ 08648. Please ensure that the application is filled out in its entirety (including any attachments required) and signed by all family members who are over the age of 18. Incomplete, unsigned, or applications received after the deadline cannot be accepted.
---
Meanwhile, enjoy the articles and pictures from the groundbreaking ceremonies.
Project Freedom Breaks Ground for Freedom Village at Hamilton Woods