Nearly 200 supporters came together last week to celebrate Project Freedom's 2oth Annual Dinner Gala. Some highlights ad photos: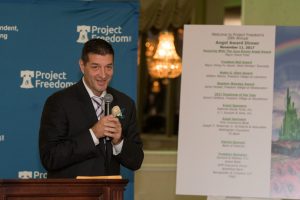 The Gala featured Mayor David Fried of Robbinsville with the Julia "June" Ronan Angel Award in recognition of Mayor Fried's "Pay it Forward Initiative." Mayor Fried has has transformed his yearly State of the Township Report into a fundraising event that raises money to help someone in need. Created in 2015, the funds raised at the event went to address a specific need in the community of Robbinsville.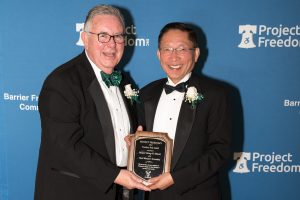 The Freedom Bell Award was presented to Mayor Shing-Fu Hsueh of West Windsor his steadfast support for a Project Freedom community within West Windsor since 2006. Under his leadership, an appropriate site was identified for our project, arrangements were made to purchase this site, and $250,000 was contributed to help pay for the engineering and architectural costs so that project could be approved by the planning board.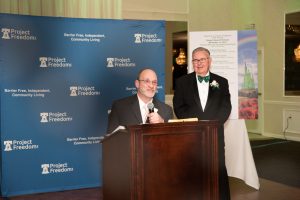 The Robin G. Heim Award was given to Lawrence Tenant William Manzo. The Robin G. Heim Award was created in 1990 to honor his spirit and desire for self-improvement and empowerment demonstrated by a young man who had multiple disabilities. Last summer Bill Manzo started his 19th year as a 911 operator for the New Jersey State Police.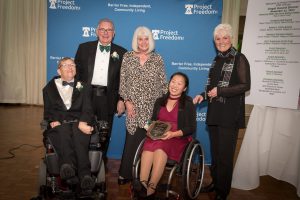 The Stephen Wensley Award went to Westampton Tenant Jaime Hooker for her community service. The Stephen Wensley Award was created to honor the memory of an unsung hero who would have served his community without recognition because it was the right thing to do. Jamie Hooker volunteers as a mental health peer counselor with an agency for people with Cerebral Palsy. She works on projects that advocate for improved healthcare for adults and woman.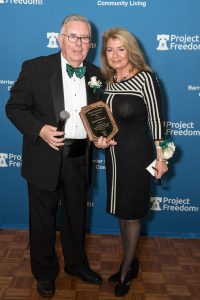 Project Freedom Inc. Employee of the Year went to Sammi DeMaris, the Social Services Coordinator of Freedom Village at Woodstown. Located in Salem County, Sammi has managed Project Freedom's southernmost site since 2009 with a very minimum amount of support from Project Freedom's central office.
The National Equity Fund, Inc. and V. J. Scozzari & Sons, Inc., were this year's Event Sponsors of the Gala.
The Angel Sponsors this year were First Commerce Bank, Joseph F. McKernan Jr. RA Architects & Associates, Nottingham Insurance, and TD Bank.
Bank of America was this year's Patriot Sponsor.
This year's Freedom Sponsors were: Dumont & Watson, P.C., NJM Insurance Group, Northfield Bank, Novogradac & Company LLP, and PS&S, LLC.