An Essay by Anna Landre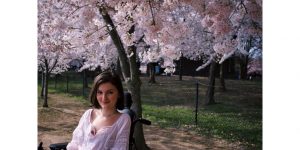 Most non disabled people I meet seem to assume that the U.S. government provides disabled Americans all the services and supports we need to survive, and even thrive, as equal citizens.
Once, when I was coming home from the grocery store, I lost my grip on my bags and had to ask a passing stranger to pick them up for me. He was happy to help, but remarked, "They should give you a helper for things like this!" I almost laughed. He was right, but I have a hard enough time convincing unsympathetic government bureaucrats that I need to go to the bathroom more than once every 12 hours each day — let alone that I require help with more mundane tasks like grocery shopping.
I'm twenty years old and a wheelchair user, and I need the services of a personal assistant to do some everyday activities like getting out of bed and getting dressed each day. If I and other disabled Americans are going to succeed in settings like work, home, and school, supports like these are an imperative. Unfortunately, though, they're often withheld — keeping our success and inclusion far out of reach.