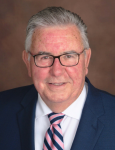 As I write these words in December, we have just been notified that Project Freedom has won the Low Income Housing Tax Credit award for our new Hamilton project to be known as "Freedom Village in the Woods". We still have to obtain a Federal Home Loan Bank Award, which we hope to apply for this coming Spring. This project will mark our twelfth housing community that Project Freedom has created. All our housing is barrier free, making life a bit easier for someone who uses a wheelchair, yet it is also appreciated by someone who is not physically disabled.
Previous special needs housing has been designed for the individual in mind—someone who would live alone. Group homes were formed that would put three or four individuals together, strangers in reality, creating a family of sorts, each "family" sharing a single family home. This model continues today, but really doesn't guarantee the independence that many people really want. Making your own decisions, and choices, is really what independence is all about. Our housing, because it is leased based housing, provides a greater ability for the individual to preserve their housing independence by not risking their housing option if they need to change their service provider.
More and More, our housing has evolved into real family housing—not just one bedroom units for single individuals. Our housing also includes two bedroom and three bedroom units, creating family environments for those who are disabled, and not disabled. This now creates a new dynamic and greater integration for the person who does have a disability. Real neighborhoods begin and relationships develop, creating a more natural environment for people to live. People start to think about their neighbors—maybe even worry about them if they deviate from their normal routine. They learn their kids' names and other family members, and often share home baked goods. That is really what being part of a community is all about.
Over the years, I have seen so many success stories from our disabled tenants. One such person, who used a wheelchair and lived in a second floor apartment, had to crawl up an outside stairway in order to get into his apartment. Needless to say, when he moved into one of our barrier free units, it allowed him to access his apartment without that indignity. I have also seen how our young consumers become more responsible, maturing by having to make their own decisions, however small they may be at first. I know in our own family; it is gratifying to see how Jen has become so independent—and more confident in handling her own issues. This is how we all learn to become responsible individuals—by having the opportunity to make those decisions and learn from those outcomes.
So, as this new year begins, we look forward to continuing the journey of creating more barrier-free housing that creates an independent environment for everyone. This year, we hope to open our West Windsor and Gibbsboro developments to new consumers who have the dream of a nice, safe place to live. One that will allow everyone to become independent.
Have a Happy New Year.