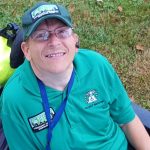 "True freedom is to have power over oneself for everything," wrote French philosopher Michel de Montaigne in 1588. For 36 years Project Freedom has implemented this concept for people with disabilities through our housing and advocacy. This happens through the generous support of friends and contributors during bad times and good times.
This past year was probably the most challenging of Project Freedom's history. It has been the opposite of freedom and independence and optimism. It has been dark and foreboding and a bit scary.
Yet through it all the glimmer of light from the flame of hope never went out. Our tenants—especially those with disabilities–proved their resilience and strength every day as they dealt with the lockdown. We learned how to help each other stay healthy and safe as we fought off loneliness and isolation through technology.
Project Freedom moved forward with opening two new complexes, constructing a third, moving forward on a fourth in pre-construction and a fifth in active planning. All the while, supporting the most vulnerable tenants with donated food and information resources. Project Freedom's impact never wavered. Our advocacy never ceased.
With your help, our impact will be greater in the next years as we continue promote freedom through independent living when the COVID-19 virus is conquered. This is the season for giving, and if you are so inclined to give to Project Freedom, it is not too late to become a 20120 Supporter! Your gift will be appreciated and acknowledged by yours truly. Donate Now Button
Project Freedom is also an AmazonSmile charity, and you may select us if you participate in that program as you buy gifts. Go to smile.amazon.com/ch/22-2532804 and Amazon donates to Project Freedom Inc.
Meanwhile, I hope all of my readers have wonderful and joyous holidays, receive the gift of peace and love, and have the companionship of those dearest to you.
Norman A. Smith,
Follow me on Twitter @normansmith02
Follow us on Twitter @TheFreedomGuys
"Like" us on Facebook.com/ProjectFreedomInc