Selective Insurance Company of America and the Nottingham Insurance agency combined to raise $249 to support Project Freedom's recreation and support services for its tenants.
The donation was the positive result of a presentation to the Selective staff at their headquarters in Hamilton last summer.
Nottingham Insurance Agency has been supporting Project Freedom for over 35 years and, as a community-minded, has contributed many volunteer hours to Project Freedom events.
Selective staff members have pledged to volunteer their time for future activities.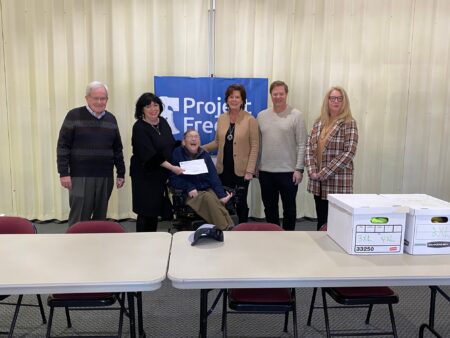 Pictured Left to Right: Herb Schneider, Chair, Project Freedom Board of Trustee; Tracee Battis, Executive Director: Norman A, Smith, Associate Executive Director; Teresa M. Caro, Senior Vice President, Selective Insurance; Jack Blair, Partner, Nottingham Insurance, and Kathy Staggard, Underwriting Manager, Selective Insurance.