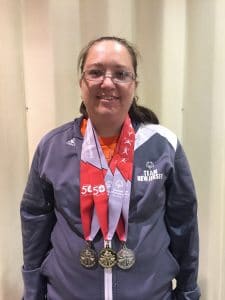 Project Freedom at Lawrence tenant Rebecca "Becky" Scheick earned three medals last month at the Special Olympics.
Becky brought home a Gold and two Silver medals.
Becky crushed it in the Softball Throw earning herself the Gold medal!
Her silver medals were for the 4 x 100 Meter Team Relay and the 100 Meter Dash.
Project Freedom is very proud of Becky and all those Project Freedom tenants, consumers, and members who participated in Special Olympics.