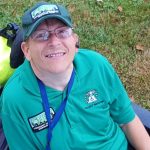 Last month saw the Democratic presidential candidates begin to focus more on people with disabilities and our issues. This took place as candidates dropped out of the race.
Each of the major Democratic candidates completed the 15-question 2020 Disability Voter Candidate Questionnaire written by RespectAbility, a nonpartisan national nonprofit organization fighting stigmas and advancing opportunities so people with disabilities can fully participate in all aspects of community. The nonpartisan voter questionnaire is about a variety of disability issues was sent to all the viable presidential candidates.
This candidate canvasing was being done in conjunction with RespectAbility's online publication TheRespectAbilityReport.org, an online publication covering the intersection of disability and electoral politics. The answers to the questionnaire will be turned into nonpartisan voter guides for all 50 states. The same questions will be sent to candidates for governor and senate as well.
When Minnesota Senator Amy Klobuchar released her detailed disability policy plan the senator held a live event. Klobuchar detailed her plan and held a panel discussion with three local disability experts, delving deeper into specific aspects of her plan.
In a press statement released prior to the disability-focused event in Cedar Rapids, Iowa, Klobuchar cited her "a strong track record of standing up for people with disabilities." Key highlights of the plan include commitments around long-term care, expanding healthcare access, and advancing economic opportunities as well as promoting disability rights at home and abroad, as reported by Lauren Appelbaum for TheRespectAbilityReport.org
Meanwhile, Massachusetts Senator Elizabeth Warren continued to outreach to the disability community with a live chat on Twitter with advocates with disabilities from around the country. Then in her closing statement for the CNN/Des Moines Register Debate last month, Warren specifically mentioned people with disabilities in her vision for what her presidency will bring.
Mayor Pete Buttigieg of South Bend, IN, took to Twitter as well to reach people with disabilities. Buttigieg himself answered questions live on Twitter from advocates during a Disability Town Hall. His campaign also released on Twitter a series of videos featuring supporters with disabilities.
While these efforts are notable, many disability advocates want the mainstream news media to pay attention to disability issues as part of their overall coverage of the candidates. For the first time in my political memory, a debate moderator asked a question specifically on disability policy during the December debate.
"Are there specific steps you would take to help people like Kyle to become more integrated into the workforce and into their local communities?" asked Politico's Tim Alberta, citing as an example a young adult with a disability from Iowa.
This sent the "disability-Twitter-verse" into orbit. Unfortunately, only three candidates were able to respond, but Elizabeth Warren seized the moment to highlight her background as a Special Education teacher.
Readers have asked me which candidates have better disability policies, and my answer will always be as a journalist: Look for yourself. Evaluate for yourself. Make your vote count for what is important to you.