Remembering My Friend Nate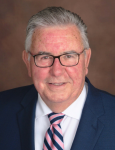 By now most of the Project Freedom community knows that our friend, Nate Smith passed away in January. Nate Smith was a tenant and employee at our Lawrence office and served as our receptionist there—answering the phones, and greeting our many visitors each day. Nate could answer most questions regarding our housing…which application to use, and if there were any vacancies at our other housing sites. He loved to come to work each day and was an inspiration to all of us who got to know him.
There is a Chinese proverb, that says, " It is better to light a candle, than to curse the darkness". I think that that philosophy is one that best describes my friend Nate. Nate was born with spinal bifida, and used a wheelchair for mobility. Because of this condition, Nate had a ostomy when he was a young boy, and lost his sight when he was a young man, so he had his share of problems and issues. I think for me, having to go each day with what he had to contend with, certainly would have made me a very sour person.
But not Nate Smith. He talked to me one day, on our trips to the doctors, or wherever, and told me that, early on, he struggled with his limitations, especially when he became blind. However, I remember him saying that, he realized that he didn't want to go through life being a negative person, and holding on to his bitterness. His attitude was that he accepted his condition, and was going to make the best of what he had. He was going to be positive in how he comported himself and live his life to the fullest. He would light the candle, rather than curse the darkness.
And that is what he did. Anyone who knew Nate, couldn't help but smile and see his positive, gentle nature. He was always interested in what I was doing…what new housing project I was working on.. and how it was going. He was also, always handsomely dressed, and took pride in his appearance. I would sometimes comment that he really looked good today… saying he could appear as a model in GQ magazine. He chuckled and said that the credit should go to his friend Essie, who picked out his clothes each day.
Nate also was fiercely independent, and wanted to make sure that his trips to the hospital at times, didn't ultimately result in his returning to a nursing home. This is a fear that I have heard from many of our tenants who are disabled. He was ever so grateful for his apartment at Project Freedom and for his status as our receptionist, and to be able to live his life as he saw fit, making his own choices.
Our Project Freedom family suffers today at the loss of our friend, Nate Smith. For someone who lived in darkness, he was a bright light to all of us who knew him. God bless and God speed Nate, you will not be forgotten.