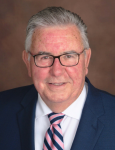 These past months have been some very difficult ones, having to deal with this Covid-19 virus. Many of us have had to schedule work hours so that we would reduce the likelihood of personal interactions with others. We have reduced our general freedom to travel or visit, opting for staying home, or at least limiting the places that we go to. My day out seems to be our weekly visit to the grocery store, then back home. So, for me, work, home or grocery store, and that has been it.
For those who have been laid off, or who have had their work hours reduced, that has also reduced the amount of income they are now getting. For some of our tenants this is true. Yet we are constantly approached by outside agencies and groups who perceive the need, and then try to answer the call.
At Project Freedom we have been fortunate to have some local agencies provide food and other household goods for our tenants. The local organization called "Arm in Arm" has, on a regular basis, dropped off bags of groceries for our tenants. They have delivered to all of our Mercer County sites several times during this pandemic.
Another local agency, the Jewish Family & Children's Service (JFCS) has also brought food supplies to our Mercer County sites with their mobile Food Truck. They were referred to us by Board member, Bob Buda Jr. who helped us with their connection. We received a check for $1,500 from the local Princeton Corridor Rotary for tenant supplies and our local pizzeria, in conjunction with Nottingham Insurance Agency, Varsity Pizza also brought 42 pizzas, last Thursday, for our tenants at Lawrenceville.
These good works continue to happen as we make our way through this pandemic. Americans have always risen to the occasion when necessary, and we are seeing that today. That is why, through this column, I want to publicly thank Beth Englezos of the JFCS, David R. Fox of Arm in Arm and members of the Princeton Corridor Rotary for their support in these challenging times. And to small business owners, such as Kevin Murphy of Varsity Pizza and Jack and Greg Blair from Nottingham Insurance for their community support and their work for Project Freedom. We will survive this virus and come back stronger as a community and nation. So, for now, let's just take care of one another.