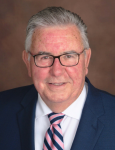 During this time of the pandemic, many functions and events have been forced to cancel or re-schedule for maybe another time. One of the most heartbreaking is the cancelling of graduation for all our students, robbing them of the chance to relish their achievements. And as sad as that is, every generation has been forced to endure some kind of interruption from events out of their control. This happened to my father in law when he was called up for WWII.
My son recently wrote about his own graduation which he had coupled with his grandfather, 50 years later.
Graduation Moments Deferred
Written by Tim Doherty Jr.

Graduates in the class of 2020 are missing out on one of the great rites of passage. Never in the past would we have thought the ability to stand on a stage in a gymnasium or on a football field filled with our peers and families would seem like such a privilege, but alas only in loss do we sometimes see the value of what we had. While the ceremony itself adds little to the educational accomplishments of the class, that 'graduation moment' somehow acknowledges, celebrates and completes the work of the student, allowing them to begin their next chapter.
While the pandemic is itself without precedent, its disruption to our important life events isn't. I offer a story of a graduate who also didn't cross that stage with his peers, but instead got a more personal opportunity to celebrate his accomplishments.
My grandfather, James Wilson, completed his engineering degree at Lehigh University in 1944. His Lehigh experience was one of a poor kid, commuting from a nearby town, during the tumultuous war years. Everything was focused on the war, even the academic year was altered to a trimester schedule to speed the process of minting graduates for the war effort.
In his last semester, he was selected for an assignment in the Merchant Marine, took his finals a few weeks early and shipped out before commencement ceremonies were held. Like so many who sacrificed greatly for the defense of our country, he never dwelled on missing graduation, but it was none-the-less a part of his story. His degree arrived in the mail in a cardboard tube.
Fifty plus years later, I began my own Lehigh education and grandpa got to observe a different version of 'the college experience'. I lived in a dorm and enjoyed campus life, and grandpa was a frequent visitor and supporter. We enjoyed sharing Lehigh and although already close, were brought closer by this shared bond.
When it came time for me to graduate, I contacted the university president who agreed to the idea– grandpa should walk in commencement ceremonies with me. It took a little prodding from my grandmother to get him to agree because he didn't want to take away from my graduation. But I can honestly say it was a far more special day because he participated. After my name was called and I walked across the stage, shook the hand of the University president and received my degree, I turned around just as the announcer read "James Francis Wilson." Immediately, the whole arena roared with applause and the crowd gave the 75 year old graduate a standing ovation as grandpa finally had his 'graduation moment'.
While it's impossible to know what either my or my grandfathers graduations would have been like otherwise, the circumstances of his commencement deferred gave us a special opportunity to personalize our experience. I offer this story because it might be the case for the class of 2020 that your 'graduation moment', although deferred, is now yours to choose. Perhaps instead of video commencement or drive thru graduation, the best idea is to offer the class of 2020 the opportunity to participate in a future ceremony (hopefully not 50 years later), maybe with a sibling or at a particular reunion anniversary– whatever might make it even more meaningful to the individual. I hope the administration of schools and universities will give this some consideration, so that instead of the class of 2020 being the class who didn't have a graduation, they'll be the class who got to have their 'graduation moment' on their own terms.