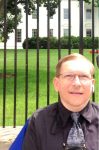 The new year brings another president campaign and election into greater focus. People with disabilities are expected to have major impact on this election, and many campaigns retargeting people with disabilities to gain our votes.
As reported on by Eric Ascher for RespectAbility.org, seven presidential campaigns made history together last November in Iowa as they participated in a Democratic Party forum, Accessibility for All, focused on issues affecting people with disabilities. This is the first time this campaign season that a forum was held specifically on this topic.
The forum was moderated by Catherine Crist, the chair of the Iowa Democratic Party Disability Caucus, and by Cindy Hanawalt, MD PhD, Immediate Past President of the Linn County Medical Society. Hanawalt's questions focused more on health care while Crist's questions focused on employment, education and other disability rights issues, reported Ascher.
Six candidates participated in the Forum themselves: Sen. Cory Booker, Mayor Pete Buttigieg, former Rep. John Delaney, Sen. Amy Klobuchar, Sen. Bernie Sanders, and businessman Andrew Yang. Former Sen. Chris Dodd spoke on behalf of Vice President Joe Biden.
The questions were generated by Iowans with disabilities. There were approximately 100 people in the audience at the Forum, with some audience members coming and going throughout the day, wrote Ascher.
This is another sign that politicians are taking our vote seriously enough to direct time to obtain it. Time is second to money as a vital resource to any campaign, and six major candidates spent their time to engage directly with people with disabilities on our issues.
In addition, disability advocates praised last month's Democratic presidential debate for including a prominent question about how candidates planned to address the needs of people with disabilities. Among the three candidates who got a chance to respond, Massachusetts Sen. Elizabeth Warren's comments drew some of the most lavish praise.
Readers have asked me which candidates have better disability policies, and my answer has been and will be: Look for yourself. Evaluate for yourself. Make your vote count for what is important to
you.
People with disabilities need to value their votes by voting for the candidate whom addresses their needs and values the best.